One of my friends, E, mama to Will and Max, is a Thirty One consultant. Thirty One sells really adorable storage, home and bag products, seriously some of the cutest stuff around. I've ordered a few things in the past and just hosted a party for her, so when I got home yesterday I was greeted by a big box of goodies.
Thus far, I already had:
Milou's agility bag, an Organizing Utility Tote in Black Happy Dot. It has fabulous pockets for all her training odds and ends and is super durable. We're really hard on it, it's basically always on the grass or in the mud, and I love that I can just hose it off. I just ordered a pocket tote to go inside so I have a zippered compartment Milou can't get in to.
A Keep It Caddy in Turquoise Cross Pop. I use it as a gym bag and its the perfect size, small enough to bring into my gym classes, but big enough to hold all my things. Again, super easy to wash if I get it wet or sweaty.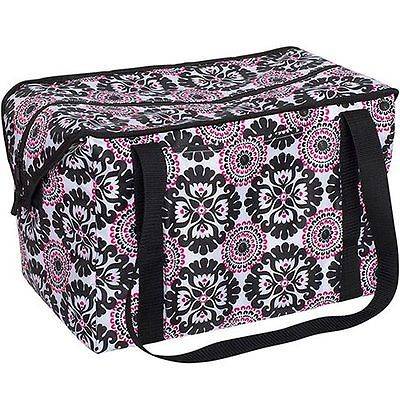 A Fresh Market Thermal in Pink Pop Medallion. This is my favorite grocery/party companion now, it keeps everything hot or cold and can fit two 9x13 casserole dishes. I put the bag into the cart, top open, and put my frozen groceries directly into it. I also used it at Thanksgiving to carry two 9x13 trays, one of potatoes and one of spinach, and a pie. It's also awesome for carting around the animals raw food, it's probably one of my most useful Thirty One products.
This bad boy is a Large Utility Tote in Best Buds. It's probably the most versatile tote out there, it has a frame at the top but is flexible on the bottom so you can flatten it for storage. It's great for holding groceries (Costco anyone?), storing things, it's basically the perfect size. I use mine to keep the closet organized but I could use another couple for my trunk and it would be great for beach stuff or storing other things.
I've been so happy with everything I have so far that I ordered a Super Organizing tote in Organic Poppy, another pocket tote to go inside it, an adorable thermal pouch in their winter owl print, a Casual Cargo Purse in Railroad Denim for my grandma, another Super Organizing Tote in Awesome Blossom to give as a thank you gift and my new favorite, my hostess exclusive, a Suite Success Tote.
This is the ultimate work or diaper bag, it has three compartments including a laptop pocket, and a thermal lined pouch for keeping snacks cool. It's awesome and I can't wait to use it. I think I'll use it for a work bag for now, and then transition it to a gender neutral diaper bag once we had kiddos. Even E said he'd be happy to carry it, and it's got two pockets that would be perfect for bottles. It's really sharp :)